PRODUCTIVITY: raw material, experience, people and technologies

We transform aluminum,stainless steel, brass, iron and pvc into products with strong aesthetic and technical impact thanks to a constant research of quality in the raw materials.
The search of the best raw materials and the variety of finishes available are the first steps to create an excellent product. This is why we put great attention and care in the selection and research of the materials we produce our profiles. Our wide range of finishes goes from the brushed, chromed, copper aluminum to the glossy and mat pvc. The close collaboration with our suppliers allow us to develop and research ad hoc products to satisfy the very different needs of each customer.
The beauty and care in the finishes show great attention to details, which is not obvious in the production of profiles.
Exclusive finishes
Thanks to careful analysis and to our know how, we offer a real alternative to standard finishes of the profiles on the market. We've been the first ones to introduce new decorative finishes for aluminum, pvc, iron and stainless steel in the field of hardware and do-it-yourself.
Certified raw materials
Anodised aluminium (extrusion, anodising and antioxidant colouring);
Polished aluminium (realized with 5 processes: extrusion, cleaning, polishing, shining and anodising);
Stainless steel AISI304;
High gloss steel (mechanical polishing and 3 processes of mechanical polishing);
Solid brass (gloss and brushed finish) ;
Steel classified under the European EN:S235JR standard and UNI certified in relation to the specific sections of the respective products.
To whom asks which is the secret recipe to produce high-level profiles we answer: experience, the people and technology.
We like the nice things, and we know that to create them you need not only technologically advanced tools , but also the passion and ability of qualified persons that can use them. We dedicate great care in the selection and training of our staff, always keeping an eye on technological innovation, to offer a complete product.
Since the founding of Arcansas, it has always invested in new innovative technology, both in the process of raw materials as well as the safe communicative packaging for its customers. A permanent design bureau styles every single product, looking ahead to cater for its partners' needs.
Guaranteed quality
The control of the production process and the traceability are our absolute priorities. All the raw materials are controlled upon entrance and are monitored in each processing stage. We carry out pre-established sample checks on all products through the use of certified tools and with the direct co-operation of specialized laboratories in the testing of materials and finishes.
450
profiles blistered in an hour
16 h
one production cycle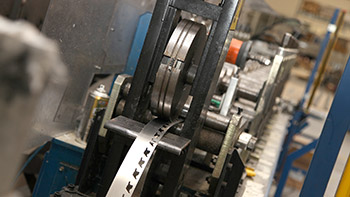 Stamping
Utilizziamo la punzonatura per eseguire segni o fori sui nostri profili e donare al prodotto la forma desiderata.
Profiling
La profilatura è il procedimento di piegatura di un elemento in metallo, che permette la realizzazione di profili di diverse sezioni. Grazie a questo procedimento, riusciamo a realizzare profili specifici, idonei a qualsiasi tipo di applicazione finale.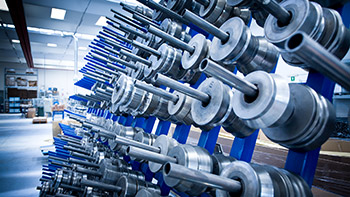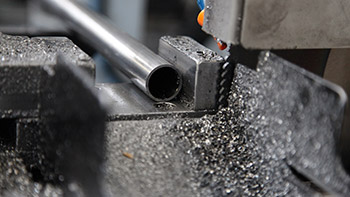 Cutting
Il taglio rappresenta un passaggio fondamentale per realizzare dei profili secondo la misura desiderata.
Anodic bath
Viene effettuato un bagno anodico dei profili, ovvero un procedimento, grazie al quale si forma sulla superficie del metallo trattato (solitamente l'alluminio), uno strato protettivo di ossido che lo proteggerà dalla corrosione.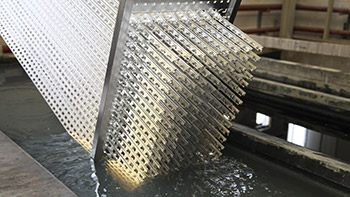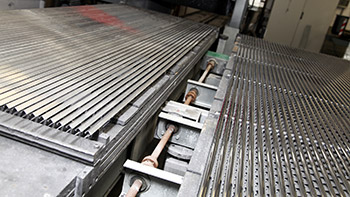 Brushing
Per pulire la superficie dei nostri profili, specialmente quelli in alluminio, effettuiamo il processo di spazzolatura. Questo procedimento rende la superficie dei profili satinata, opaca e, se realizzata in un determinato modo, può servire a donargli anche un elegante effetto graffiatura.
Blistering
Sigilliamo i nostri profili in blister trasparenti realizzati in pvc, in modo da proteggerli da urti e polvere ed infine garantirne la massima visibilità e praticità durante il suo posizionamento tra i prodotti da scaffale.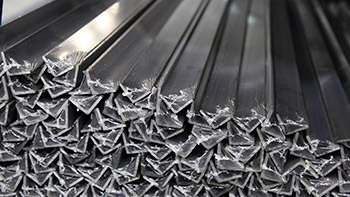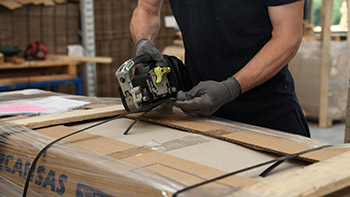 Packaging
Offriamo soluzioni per il confezionamento idonee al trasporto dei profili in alluminio, acciaio e pvc. Prepariamo ogni prodotto con cura alla spedizione e facciamo in modo che giungano perfettamente intatti al mittente finale.